This 13-Year-Old Raised $1,500 to Build His Own Tiny House
Advertisement
tiny house
. Thill became interested in the tiny house movement and decided to build one in his spare time, beginning over his summer vacation.
"
I like the minimalism, and I wanted
to have a house without a huge mortgage," Thill told
The
Des Moines Register.
The teenage boy was able to raise about $1,500 to buy supplies for the small house. Thill was able to raise the money all on his own by mowing lawns around the neighborhood and helping out with odd jobs. Seventy-five percent of Thill's house, which is 89 square feet, is made of recycled materials. He was able to repurpose his grandmother's sliding glass door and used a front door that was given to him by his uncle's friend. The house is fully equipped with electricity as well. "The main purpose is to be my starter home. I'm going to save money and expand," Thill told
The Des Moines Register.
Check out a full tour of Thill's tiny home below. With his starter home all complete, Thill has already set his sights on his next project. The 13-year-old plans to build a mobile home that he can take with him to college. Thill's dad, Greg, worked to guide his son through the building process, but he wasn't needed much along the way. The teen boy was able to build much of the house on his own. "It was a chance for a kid to do something more than play video games or sports," Greg Thill told
The
Des Moines Register
. "It teaches life lessons." For Thill, this house taught him about what he truly wants in life. "Everyone had to have a big house, and now people have changed and realized it's not practical," Luke Thill said. "You can save money, travel the world and do what you want instead."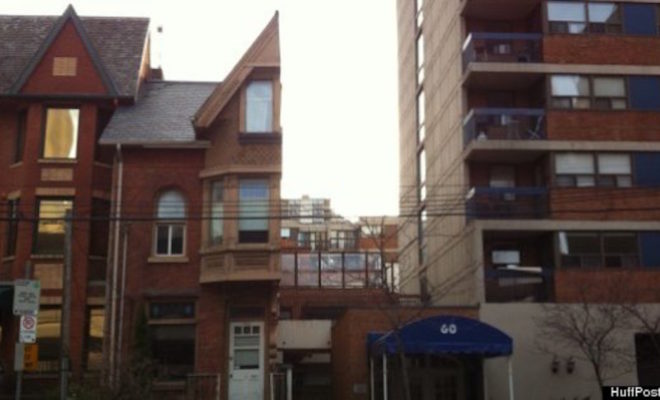 Holdouts: Property Owners Who Refused to Move for Developers
Progress is an unavoidable part of life. As cities grow, it's necessary to create new buildings and expand roads. However, said progress can come at the expense of local homes and businesses that have been established for years. Sometimes developers are able to work with locals, but sometimes disputes explode,…
click here to read more
Advertisement
Downtime definitely has a different meaning for this 13-year-old boy. In just one year, Luke Thill was able to build a fully functioning