Teen Over 300 Pounds and Addicted to Fast Food Makes Incredible Transformation
Advertisement
He would try to pretend it didn't bother him, but it was eating him up inside. Shifflet's story of weight gain is all too familiar for millions and millions of Americans. Over one-third of Americans are obese, and it is not an easy lifestyle to change. It takes huge changes in diet and exercise, as well as being mentally tough enough to deal with it. While many obese individuals struggle with food addictions like Shifflet, there are also a number of other reasons obesity can creep up on someone who is otherwise healthy: illness, disease, and depression can all have negative effects on one's body and health. After high school, Shifflet decided enough was enough. He started the Atkins diet and lost 9 pounds in the first week. After that great start, he was hooked. Before he even entered a gym, he lost a ton of weight by just altering his diet. Once he started going to the gym, the weight loss only increased. In less than a year of working out and eating healthy, Shifflet was able to lose an astonishing 166 pounds. He had a newfound confidence in himself and his lifestyle did a complete 180. This is what he looks like now: Amazing, right? What an incredible transformation! While things were going great for Shifflet, there was one thing still bothering him. He was fit and healthy but noticed he had a fair bit of excess skin. Unfortunately, the procedure to correct this cost about $45,000 and he just didn't have that kind of money. That is when the popular TV show
The Doctors
stepped in to help. The show organized it so he would be able to get the surgery free of charge. He is now a completely new man, and even has his sights set on modeling. Shifflet is a true inspiration. He is a testament the idea that hard work and dedication always pay off. What do you think of Shifflet's weight loss journey? If you have a friend who needs a bit of hope and inspiration today, please share this article with them!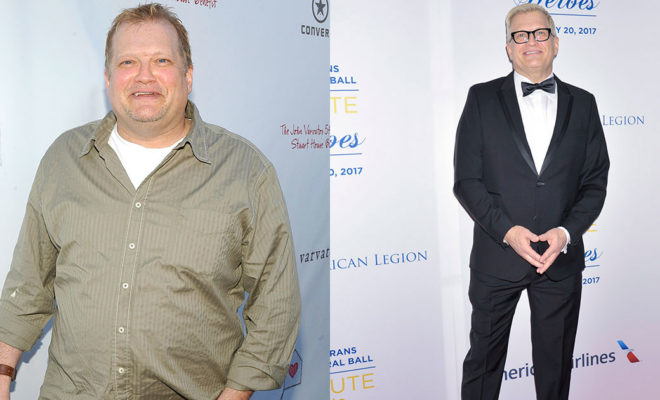 Before and After: Celebrities Who Dropped Massive Amounts of Weight and Got Into Shape
We just can't help it, can we? As a society – for better or worse – we're fascinated by celebrities and how they look. If a famous person drops a significant amount of weight, you can be sure that photos of them will surface all over the tabloids and the…
click here to read more
Advertisement
When Austin Shifflet stepped onto the scale and saw 324 pounds, he knew he had to make a change. He needed to come up with a solid plan and stick with it. It wasn't easy by any means, but Shifflet was able to eventually meet his goals and lose over half his body weight. And now the people that used to bully him are asking him for fitness advice. As a young teenager, Shifflet began to put the sports balls down and pick up a video game controller instead. As his physical activity declined, his food intake increased. He very quickly became addicted to junk food and soda, which helped him gain a ton of weight. He was regularly called "fat boy" throughout high school.