Live Happily Ever After in This Snow White-Inspired Cottage
Lifestyle
| |

this would've been their dream home

. The enchanted cottage of the seven dwarfs featured in the classic fairy tale,

Snow White and the Seven Dwarfs

, has charmed readers over the years. It's where Snow White felt safe and secure. In 1812, the Brothers Grimm, Jacob and Wilhelm Grimm, could only imagine

what their humble abode would look like

.

One family was so enamored with the seven dwarfs' home that they further realized the illustrations in

Walt Disney's

1937 animated film into reality — and reproduced it stone for stone — for their family home, where they lived happily ever after until 2005. The next owner maintained the home's magical themes and enhanced the interior for 12 years. Now, the Snow White cottage is back on the market. And it

can be yours for an asking price of $775,000

. The cottage is detailed with wood, intricate forged ironwork, and stained glass to lovingly replicate the fictional fount. "

There's not a square corner anywhere

. Each door was hand built with extensive ironwork. Wood beams were hand carved, stained glass windows are everywhere, and the walls appear … like a magical cave," said real estate agent Rick Ellis. The owners must have been fairly small, as the oval-shaped doors only seem to be large enough to accommodate the size of a dwarf. The storybook home, built in 1982 on five wooded acres, is secluded on a dead-end street with a twisted wooden bridge that leads to the front entranceway. From the outside, the cottage may look tiny. But inside is 2,800 square feet with four bedrooms, 4.5 baths, and a tree trunk right in the middle of the living room that ascends to a second floor with an open loft and a bathroom. One of the bedrooms looks like it belonged to the dwarf Sleepy with its twin-sized bed jutting out of a white cave. There is a white stucco ceiling dripping over boulders. There's room for modernity, though. The old-fashioned stone interior walls have a microwave oven planted right into them. The kitchen is rounded; in fact, there are no square walls to be seen in the cottage. A state-of-the-art refrigerator is set off by a wood stove and latticed wooden cabinets with a single window peering out into the garden. You can just imagine Snow White and her seven dwarfs sitting around the stone fireplace complaining about the wicked stepmother over a pot of steaming porridge. The surrounding woods has a creek, with a garden area and fruit trees. The tower "tree house" in the garden comes complete with a small room with its own fireplace — a perfect spot to revisit the story of

Snow White and the Seven Dwarfs

. Perhaps your story can have a happy ending in this Snow White-inspired cottage. Please

SHARE

with any of your friends still searching for their happily ever after.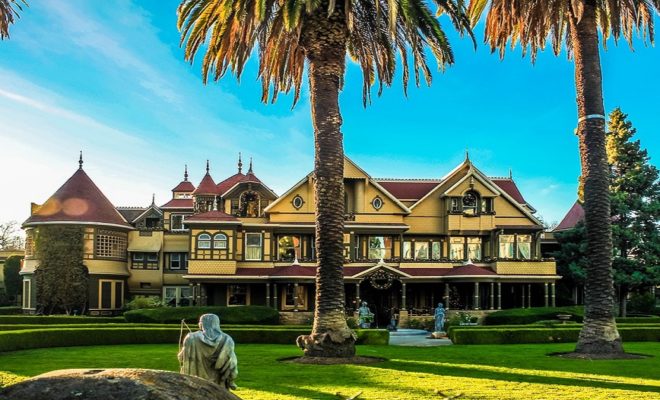 The United States' Finest and Most Historic Victorian Homes
Victorian homes are a conduit of sophistication: When you're in one you feel fancy, or at least you feel that you should act fancy. Victorian architecture describes several - predominantly revival - architectural styles that were popular from the middle to the end of the 19th century; this period largely…
click here to read more
If Snow White and her seven dwarfs had ever decided to pick up stakes from their little cottage in the woods and make a move to Olalla, Washington,